Beastly Bear Fiction
Those that know me already know, those that don't will find out.
I'm not really one for blowing my own horn, never have been.
Probably stems from my school days where I was quite accomplished in Drama Club. I won several "best actor" awards in local and regional competitions and was duly proud. In discussing this with my extended family, I was later told that someone I was very fond of thought that I was very conceited about my successes.
I never spoke of them again.
Fast forward to this week.
I entered the Yeah Write weekly micro story challenge. This weeks prompt was "where can I get one of those?". You may not use the prompt in the body of the story or in the title, but you must convey the idea so that even someone that doesn't know the prompt would understand.
I lucked upon a pretty good idea I thought, going with a Depression-era story.
Lo and behold, I actually won this week by a single vote. Just eking by EagleAye and his "Curious Encounter" (he is really great, check out the link to his site). Only fair he took third last week with one more vote than me. Lol
My deepest thanks to any that voted for me, and a deeper thanks to those who took time out of their day to read all the entries and vote.
So this is my Horn blowing post! I still have tons of room to improve, (as not even half of the 36 voters thought I was one of the top 3) but this is encouraging.
So, I will wear my badge proudly and display it here as well as my regular blog Den of the Beastly Bear. Stop by if you enjoy my writing, there I tell true life stories in what I hope are entertaining ways.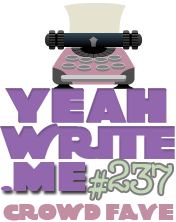 There, now you will hear no more about it!